The south end zone scoreboard at Memorial Field flashed "The State of Illinois' Undefeated Big Ten Team" and the crowd crooned to the Chicago-inspired tunes of "Sweet Home Chicago," Frank Sinatra's "My Kind of Town" and Kanye West's "Homecoming."
Thus Shannon Ryan of the Chicago Tribune described the end of last year's meeting between the Wildcats and the Fighting Illini in Champaign. The 'Cats lost the Land of Lincoln Trophy for the second straight year despite the return of quarterback Dan Persa and a 28-10 third quarter lead, allowing 4 late Illinois touchdowns to lose 38-35.
Nathan Scheelhaase brandishes the Land of Lincoln Trophy
Needless to say, fortunes have shifted. Illinois was ranked 24th and the 'Cats were at the start of a 5 game losing streak that began with an improbable upset at West Point against Army. Illinois' head coach Ron Zook was fired and replaced by Tim Beckman. The 'Cats are on the cusp of a winning (5-3) Big Ten campaign while the Illini have imploded under Tim Beckman and are staring at the very real possibility of an 0-8 conference tour.

Illini fans, in better times.

Coaching changes are rarely smooth and the regime change to Beckman is no exception. A talented Ron Zook team is playing like it is lost in transition. Older Northwestern fans will enjoy something of a retro look on Saturday: Illini quarterback Nathan Scheelhaase will look like a throwback to Northwestern's Lenny Williams, but without a Lee Gissandaner .
Opening Line: Northwestern by 18.5
Who should win: Northwestern. The 'Cats are looking to settle some scores and will not be distracted for their rivalry game. While Scheelhaase will inevitably move the ball and get some points on the board, the Illini's predilection for turnovers will be their undoing. The only real question is whether the Wildcats will be able to cover a spread that had moved to 19.5 at press time.
It would be pragmatic of Coach Fitzgerald to make as little use as possible of Venric Mark and Kain Colter to help healing ahead of the bowl game. This may make for a closer game than the Wildcat faithful will be comfortable with.
NU Offense vs. Illinois Defense:
29.8 points per game (5th) vs. 30.5 points per game allowed (11th)
394.4 yards per game (6th) vs. 381.9 yards per game allowed (8th)
222.1 rushing yards per game (3rd) vs. 180.8 rushing yards per game allowed (11th)
172.3 passing yards per game (111th) vs. 219.4 passing yards per game allowed (6th)
122.5 passing efficiency (9th) vs. 147.9 pass efficiency defense (12th)
1.36 sacks allowed per game (2nd) vs. 1.81 sacks per game (8th)
Northwestern Turnover Margin: +1.00 per game (2nd)
After last week's bruising battle with the Spartan defense, the Wildcats will find the Illini defense downright porous. Look for the 'Cats to pound-pound-pound with great effect as the dominance of the offensive line grows over the course of the game. The running game should continue to be featured should Trevor Siemian take over at quarterback.


Illinois Offense vs. NU Defense:


16.9 points per game (12th) vs. 23.5 points per game allowed (6th)
301.6 yards per game (12th) vs. 398.4 yards per game allowed (11th)
128.0 rushing yards per game (10th) vs. 122.5 rushing yards per game allowed (4th)
173.6 passing yards per game (10th) vs. 275.9 passing yards per game allowed (12th)
114.8 passing efficiency (10th) vs. 124.6 pass efficiency defense (9th)
3.36 sacks allowed per game (12th) vs. 2.09 sacks per game (5th)
Illinois Turnover Margin: -0.91 per game (12th)
The Illini will likely struggle with the run against the Northwestern defense and can be expected to try throwing on the Wildcat's young secondary and run Scheelhaase on rollouts and scrambles. Look for limited success from Donovonn Young and Dami Ayoola as they try to run into a stacked box. The top Illini receiver, Ryan Lankford is averaging a mere 45 yards per game but did find the end zone last week against Purdue.

Young slashes his way through Purdue last week.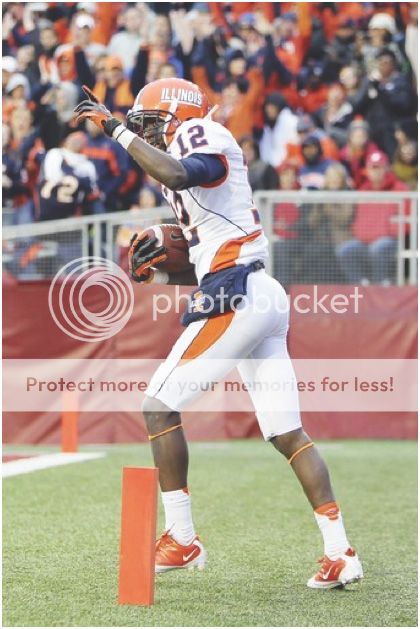 Lankford finds the end zone earlier this season.

What Could Happen:
This is a rivalry game and the Northwestern – Illinois series is filled with games where the underdog came out on top. Of the more jarring episodes was the 13-10 Illini win in 1998. If the 'Cats slip into offensive dysfunction showing serial three and out series, a demoralized Illini squad could start believing in themselves and pull off an upset.
Notes
Friday, November 23 marks the 100th anniversary of the Northwestern vs. Illinois contest of 1912 where Go U Northwestern was unveiled as Go! Northwestern Go!
At press time, I was unable to confirm whispers that NUMB would salute our opponent by playing Home for the Holidays.
Saturday is Senior Day for the following 24 Wildcats who will appear in their final home game: DL Brian Arnfelt, S Hunter Bates, SB Anthony Battle, S Jared Carpenter, DL Bo Cisek, DL Davon Custis, OL Neal Deiters, CB Demetrius Dugar, CB Quinn Evans, WR Demetrius Fields, PK Steve Flaherty, LB Roderick Goodlow, RB Tyris Jones, WR Drew Moulton, OL Brian Mulroe, LB David Nwabuisi, OL Taylor Paxton, OL Chuck Porcelli, SB Tim Riley, SB Brian Smith, LB Will Studlien, OL Pat Ward, SB Evan Watkins and DL Quentin Williams
Prediction:
Northwestern 35 Illinois 17
Look for the 'Cats to put this one away early and for the Illini to try to mount a comeback. Unlike last year, they will come up short, in fact way short but not short enough to cover the spread.
Final Comment
I was saddened to read of the decision of Jonathan Hodges to retire from his commentary on the HailToPurple.com site. I have come to depend on Jonathan's skillful and objective analysis of upcoming games and their outcomes for many years. His balanced and even-handed views will be missed. Let me join the chorus of those offering thanks and let me say that gamedays will just not be quite the same without him. Best of luck to you, Jonathan!
Like a backup quarterback stepping into a game stone cold, I've attempted to fill in this week to help HailToPurple.com. Here's hoping that the effort, while far shy of Jonathan's standards was nonetheless of some help and amusement.
Sunburnt